Pay as You Throw Waste Fee for All Dubai Buildings Soon
Posted On November 26, 2017
A new 'pay as you throw' waste fee is coming soon for Dubai buildings, Gulf News has learnt.
All buildings in Dubai will soon be charged for waste collection as Dubai Municipality has decided to outsource the service to the private sector, Gulf News can reveal.

A senior municipality official confirmed that the civic body would stop the waste collection and transportation service to all buildings that are considered as business — whether commercial or residential — after it announces the proposed tipping fee.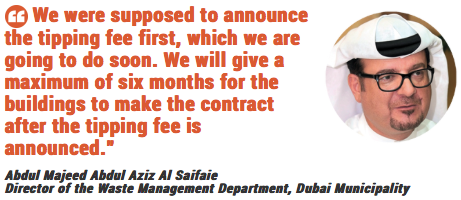 Then, the building owners or property management companies will have to make a contract with private companies approved by the municipality for collecting and transporting waste to landfills, said Abdul Majeed Abdul Aziz Al Saifaie, director of the Waste Management Department.
A circular in this regard was sent out to building managements in different parts of Dubai recently, a copy of which was obtained by Gulf News. The circular says the building management companies have to make the waste collection contract with the private service provider before December 1.
The circular also contains the list of companies that have successfully complied with the requirements of the department and thus permitted to carry out their respective waste management-related activities like garbage collection, transportation and disposal services.
However, Al Saifaie said the plan has now been deferred.
"We were supposed to announce the tipping fee first, which we are going to do soon. We will give a maximum of six months for the buildings to make the contract after the tipping fee is announced," he said.
The official did not provide the date of announcing the tipping fee which will be levied per tonne of garbage from the companies transporting waste to landfills. However, he estimated the move to outsource the waste collection service by the middle of next year. The move is part of the emirate's integrated waste management plan and strategy to reduce the generation of waste going to its landfills.
However, the plan to introduce the new fee even for residential buildings is a deviation from the earlier plan the municipality had.
Earlier, the municipality had stated that the tipping fee will be levied for waste sent to landfills from private companies, that is, commercial services.
However, Al Saifaie said all buildings renting out spaces — whether for commercial or residential purposes — will be considered as a private business.
"Till now, we have been serving all these buildings for free," he pointed out.
Dubai has so far been charging only Dh10 gate fee per trip from trucks dumping waste at its landfills.
"The owners [of the buildings from where waste is collected] have not been paying anything. How can we serve them for free when there is a tipping fee [on companies transporting waste]? That is why once the tipping fee will be introduced, these buildings are going to be charged [for waste generation]," he explained.
Zone-wise implementation

He said the municipality will implement the waste collection fee zone wise.
"We have not finished the zoning yet. But we will try to work it out with companies to choose three companies for each zone and offer the best price. We will make sure that they [building managements] won't be ripped off by any of these companies [collecting waste]."
Currently, different waste management companies are charging different rates for their services. However, the official said the municipality will issue guidelines on the charges.
Asked if building managements will pass on the new fee to the tenants who are already paying five per cent of their rent as housing fee that is meant for civic services, Al Saifaie said:
"That is between the building management and the tenants. What people need to understand is that your waste generates pollution. So, we need to collect and treat the waste. The municipality continues to provide waste treatment services for free for all."
The civic body has also been investing on recycling services and is working on a waste-to-energy plant which is expected to start operation in the second quarter of 2020.
All these new moves are part of the efforts to reduce the per capita solid waste generation per day to 900 gram as per the UAE's National Agenda 2021. Dubai has also set its target to reduce 75 per cent of rubbish going to landfills by 2021.
The UAE has one of the highest waste generation rates, with each person in the country estimated to produce from 1.9kg to 2.5kg of waste everyday.
Dubai generates 8,200 tonnes of municipal solid waste per day, according to figures released in 2016.
Highlights
Dubai will announce a tipping fee soon.
This will be imposed on companies collecting and transporting waste to landfills.
Dubai Municipality will then completely stop waste collection and transporting services and outsource it to private sector.
All Dubai buildings — commercial and residential — will then have to make contracts with private firms for waste collection.
This will be done zone wise, with three companies assigned to provide services in each zone.
Buildings will be charged for waste collection by these companies which they will use to offset the tipping fee that they will have to pay to the municipality.
It is not known if the building managements will pass on the burden to occupants who generate waste.
Source: Gulf News